Produce your green electricity with the Aeroleaf®, the first micro-turbine that reinvents wind power.
New World Wind invites you to discover the Aeroleaf® ; a unique technology in the world created by our company after many years of research and development. Our team has developed strong aerodynamic technology that is weather resistant so that our trees can be planted in all biomes.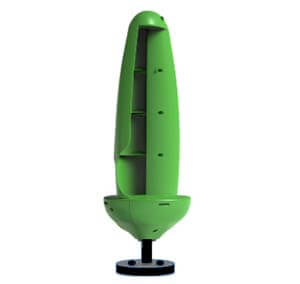 on
This configuration exists but the visual is not yet available
Get
Aeroleaf or Hybrid Aeroleaf
Price from
695 € HT
---
994 € HT
for hybrid version
Power from
300 W
---
336 W
for hybrid version
Discover our configurations
Please consult us for all other colors or configurations
New World Wind proposes to extend the efficiency of their products by adding a solar petal at the base of aeroleaf.
Solar and windmills can work together to enhance the capacity for providing energy during all the day.
The solar petal is designed to be elegant and calculated to increase a little bit the speed of wind (Venturi effect) and permits a best production of energy from the aeroleaf.
Hybrid Aeroleaf can be deployed on roof, terraces, and all supports without exemption.
A revolutionary technical innovation
The Aeroleaf ® is a patented micro wind turbine composed of a double blade with a vertical axis in the form of a leaf and a synchronous micro-generator with permanent magnets. These elements generate an alternating current also rectified in direct current. They can be installed anywhere. On a roof, a terrace or a pylon, the Aéroleafs® exploit the weakest winds to provide green and sustainable electricity.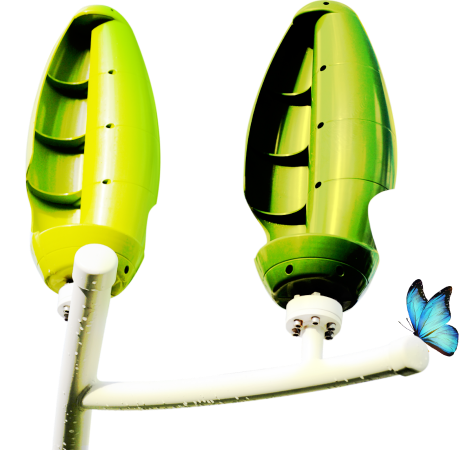 Aeroleaf® hybrid; the alliance between solar and wind energy
The Aeroleaf® hybrid is made up of a standard Aéroleaf® and a solar petal. This technology combines the properties of solar and wind energy. Combining these techniques makes it possible to double the electrical production of the Aéroleaf®. The whole design of the sheet and the solar panel has been studied to maximize its efficiency when the wind is weak and the luminosity is low.
For any request, do not hesitate to contact us via the online contact form.You can also follow our news on our social networks.